If Susan B. Anthony and her youngest sister were alive today, Susan would almost certainly describe Mary as the wind beneath her wings. Today's hat tip goes to Mary Stafford Anthony in honor of her birthday on April 22, 1827, in Battenville, NY. Mary was seven years younger than Susan and never married.
"Miss Mary" was known far and wide for her devotion to the care of others. As a church member, educator, and family member, she was the person everyone relied on. No matter what her current occupation—nurse, wage earner, or homemaker—she was always caring for others.
I must apologize to those of you looking for more on her connection to the Unitarians. I thought I had more tidbits on that topic, but it turns out there was only one direct reference, after all. If you know of more, I'd love to hear.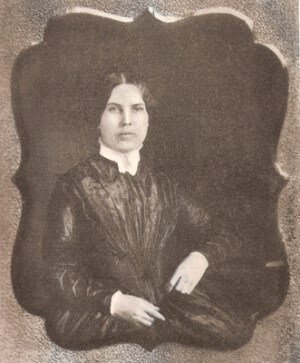 Mary Anthony at about twenty-five, Rochester Public Library 1
Go ask Mary
The Anthony family was still climbing up from the pit of bankruptcy in 1845 when they moved to a farm on the outskirts of Rochester. Daniel Sr. intended to start over as a gentleman farmer, but did not make a success of it. Within a few years, all the Anthony children except Mary left home, leaving her to help with the farm. (You can see Mary's position on the family tree here.) After her father died and her mother Lucy bought a house in town, Mary took care of both the ailing Lucy and the home.
So many and varied were Mary's kind deeds that few people ever knew the extent of them—except, perhaps, her sister Susan. Here is an account of Mary's middle years in Susan's authorized biography:
"After the father died, the family left the farm and went into town. For ten years before the mother's [i.e. Lucy's] death, in 1880, she was an invalid, the last six years entirely helpless. During all this time Miss Mary had full charge of the house and of her mother, and during much of it [she also had] the additional care of young nieces and nephews. It was a time when there had to be a stove in every room, when there was no running water or any of the modern conveniences, and when most of the food had to be prepared at home. Every morning before going to school she put the house in order, bathed and dressed her mother, cooked her breakfast and gave it to her and did the day's marketing. She slept on a couch in the sick room and was up to look after the invalid many times every night." 2
Rochester History published an article with plenty of detail about her teaching years. Here's the full story.
When Mary came into her own
Following Lucy's death, Mary expanded her role and found many creative new ways to lend a hand. Susan noted that "every line of the varied activities of the Unitarian Church received her assistance." A member of the city's Committee of Charities, she baked and cooked for indigent families. She took care of mothers so their wage-earning daughters could work. In keeping with her frugal Quaker roots, she mended and remade cast-off clothing for poor children. When Red Cross founder Clara Barton went to Johnstown, NY after the terrible flood of 1889, Mary worked alongside her from early June until October.
Susan said that she herself could talk all day about woman's equality, but Mary lived it. I've mentioned before that Mary attended the first woman's rights convention in 1848 and voted illegally with Susan in 1872. Susan must have been very proud of her little sister, who in 1859 demanded and received equal pay for equal work as a school principal. In 1892, she became president of the Rochester Political Equality Club and, under her direction, the club flourished.
Later, Mary's frequent protests about taxation without representation (when paying her annual taxes) gained considerable attention. In 1904 she wrote to the newspaper:
The wind beneath Susan's wings
I could devote a whole post to all the ways that Mary supported Susan's reform work. Here is a short list culled from Harper's biography of Susan:
did Susan's shopping and errands
mended her clothes and put trims on her dresses
helped pack her trunks and looked after tickets for travel
kept Susan's room at the ready during her hundreds of travels
updated woman suffrage scrapbooks
in later years, traveled with Susan and organized behind the scenes
carried on a voluminous correspondence for the movement
Mary understood, as no one else did, that Susan could not have done her public work without the knowledge that her efficient, faithful, and ever-present sister was tending the home and family that Susan so dearly loved. 3 The younger sister, who was more shy, preferred to remain in the background but cared just as passionately about reform work as her more famous sister.
Clearly, they were like-minded and differently-gifted. The Anthony sisters took their last trip together to attend the National American Woman Suffrage Association Convention in Baltimore in 1906.
Susan took sick on that trip, and Mary helped to nurse her sister through her final illness until Susan's death on March 13, 1906 at the age of 86. After fulfilling some promises to Susan, Mary died from leukemia on February 5, 1907 at age 79.
They are buried side by side at Mt. Hope Cemetery.
Again, if you know of more connections between the Anthonys and the Unitarian Church, please let us know in the section below. I read and reply to every comment.
Unknown, "Photograph of Mary Stafford Anthony," RBSCP Exhibits, accessed March 29, 2023, https://rbscpexhibits.lib.rochester.edu/items/show/5701.
Ida Husted Harper, Life and Work of Susan B. Anthony, p. 1489.
Harper, p. 1500.